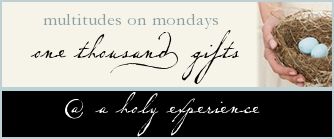 I am joining this community above and giving thanks every Monday! I am so thankful for...

9. Dark Hot Chocolate

10. Painting on a Saturday in your PJ's

11. My spouse loving the dinner I made

12. Hugs

13. Praying with special women in my church

14. Sleepy quiet naps

15. Getting a new book in the mail on a snow day

16. That with God all things are possible....

Have a great Monday!